The following Pitch Deck is based on a Business Model concept from Jeremy Langer.  
This Pitch was a finalist in a Pitch Competition for the June 2020 Immersion at the Harvard Business Analytics Program.  I worked as a collaborator and helped design and refine the Business Model.
(Note: the copy below each slide are presenter notes, and may not be completely written out.)
I'm super honored and humbled to have been chosen by Jeremy Langer to be a part of this project.  It was a lot of fun to be on his team... and I'm 95% confident that I'll be friends with Jeremy for the rest of my life.
WiBi will create the interactive e-commerce platform needed to allow audiences to use their phone or TV remote to click-on and buy the things they see on TV.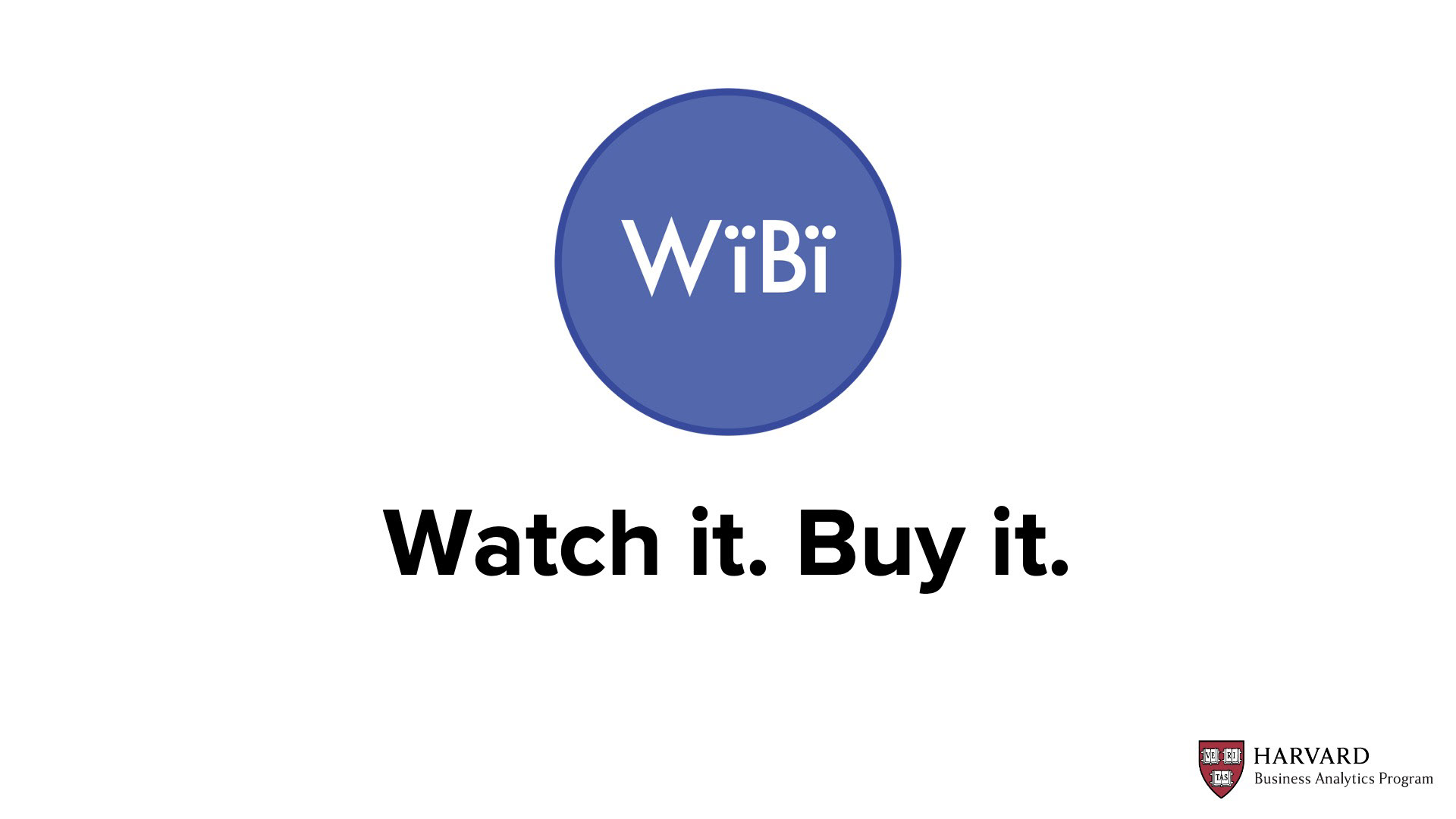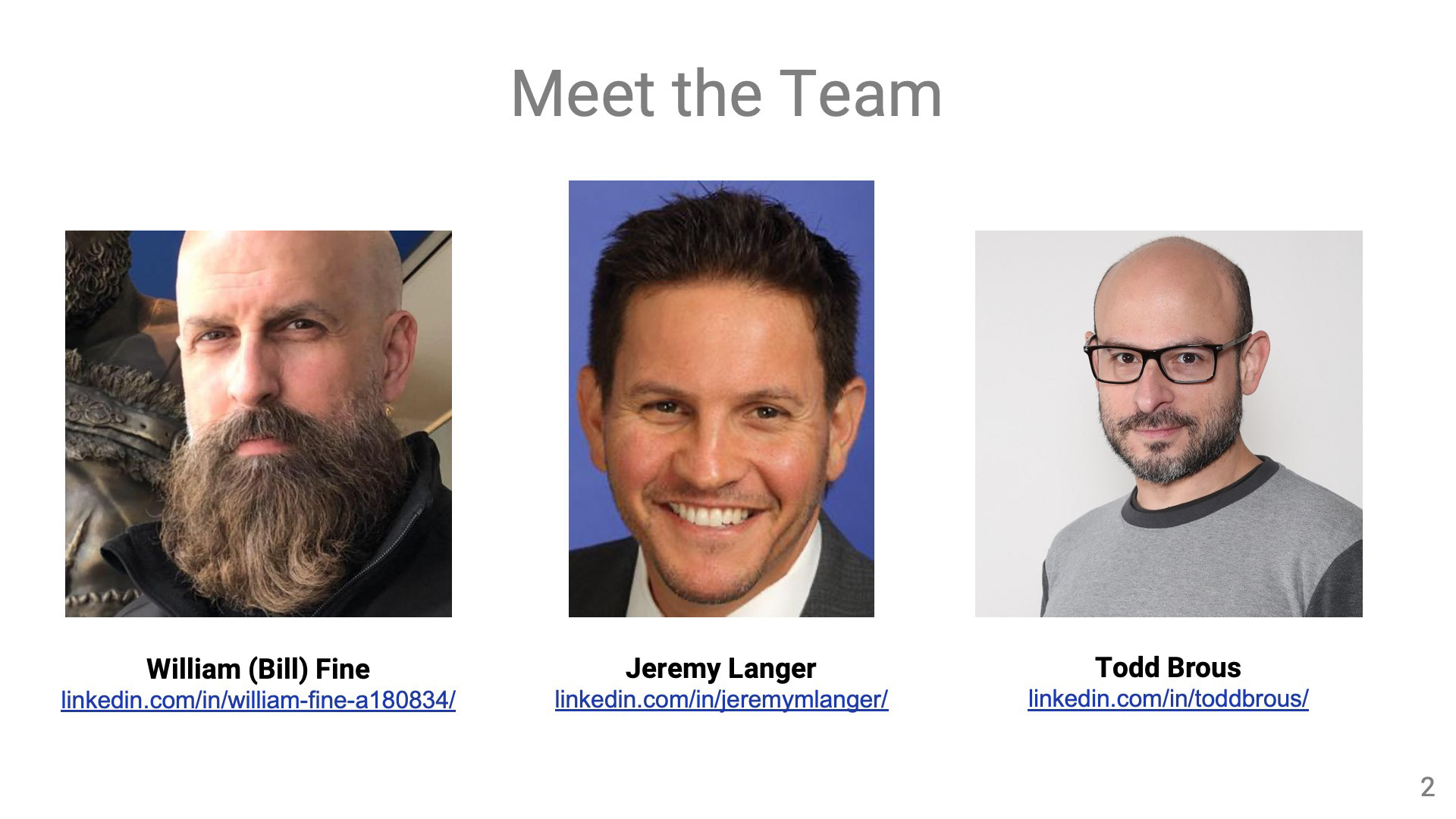 Bios:
Jeremy Langer: Jeremy has spent the vast majority of his 20+ year career as a sports programming executive, having spent time as Vice President/Head of Programming for Tennis Channel, and as Vice President, Collegiate Sports & Rights Acquisitions for FOX Sports Media Group.   At Tennis, he was responsible for the acquisition and scheduling of nearly 7500 matches annually from the Grand Slams, and the men's and women's tours on the company's payTV and OTT platforms.  During his time at FOX, Jeremy was responsible for the business relationships with the nation's Power 5 conferences, broadcast networks and marketing agencies involved in college sports, as well as game scheduling across all of the company's network verticals. 
William (Bill) Fine:  Bill has 20+ years as a Producer, Program Manager, Product Owner, Project Manager for Fortune 100 companies (Microsoft, IBM and Compaq).  Most recently, Bill was Senior Producer at Epic Games where he ran all operations for Fortnite, the galactically popular video game that transcended ages, geographies and cultures.  Bill likes his family, hockey, video games and SciFi.  Bill dislikes brussel sprouts, pointless meetings and speaking about himself (especially in the 3rd person). 
Todd Brous:  Loves Roasted Brussel Sprouts with a little salt, pepper, and olive oil.  He's also an Entrepreneur, Consultant, Product Developer, Technologist, Designer, Artist, and Teacher.  He is the President and CEO of Untwist, Inc., a Boutique Technology Consulting Firm, and has worked for 20+ years in Media & Entertainment, IT, Technology, and Content Creation, and... has a Design Patent for a fidget toy.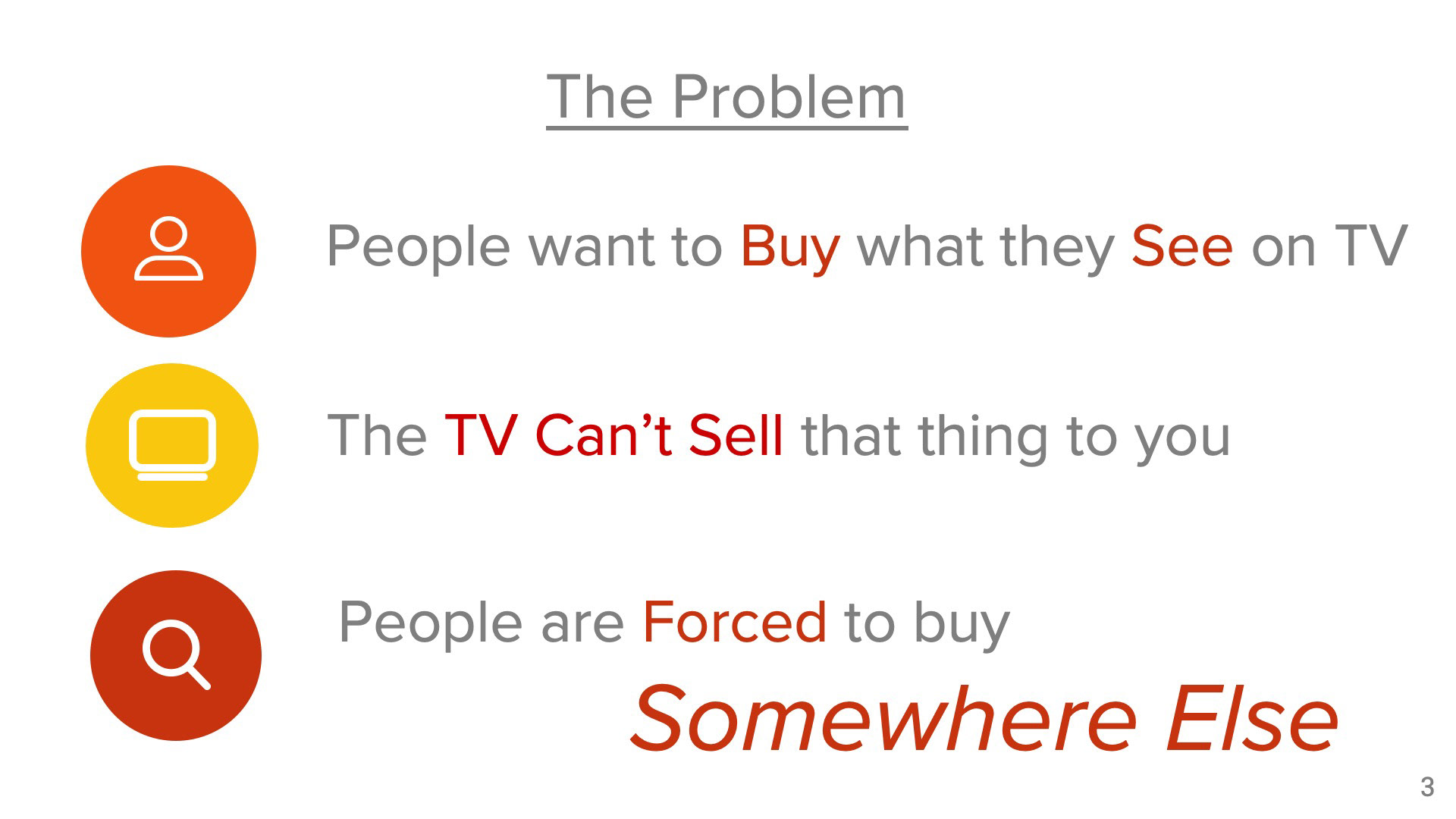 Why do we have the privilege of your attention?  I believe it is because we share a common problem.   We spend a lot of time in front of the TV and we see things that we want to get.  Broadcasters, Teams, Leagues, Advertisers, they have stuff they want to sell us.  Today, Yael needs to go to another platform and spend time finding the product she wants.  It's a slow, inefficient, clunky process.
Problem 1:  Organizations are unable to sell merch to customers in their most likely viewing scenario (in front of the TV) without great friction
Problem 2:  Viewers are unable to see something and purchase it with a quick, easy workflow
Problem 3:  Advertisers still live in a decades old antiquated model where they spend money with a network and guess to the efficacy of a campaign
Problem 4:  An elegant technology option does not exist to bring these problems closer to a mutually beneficial solution…  yet!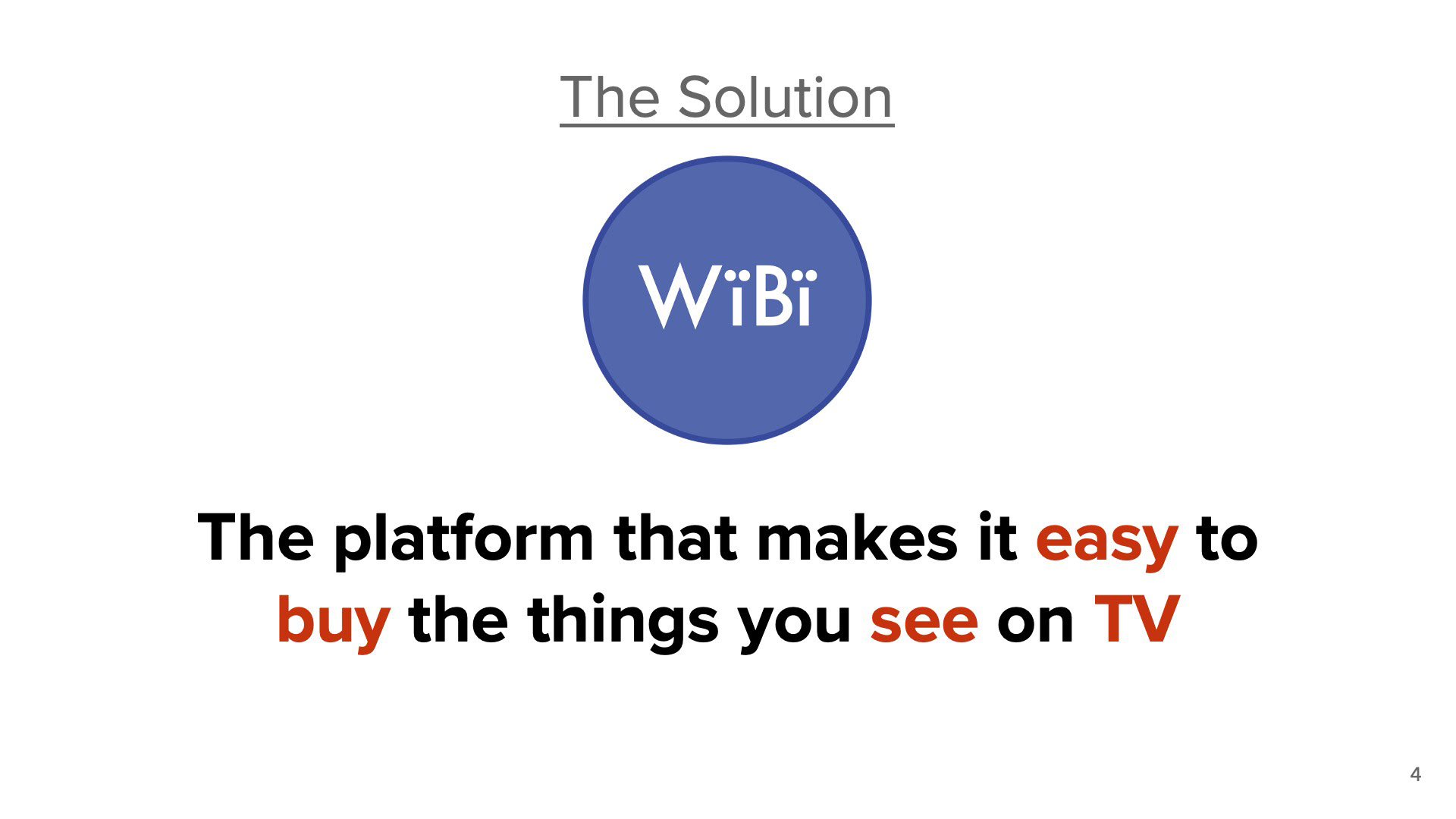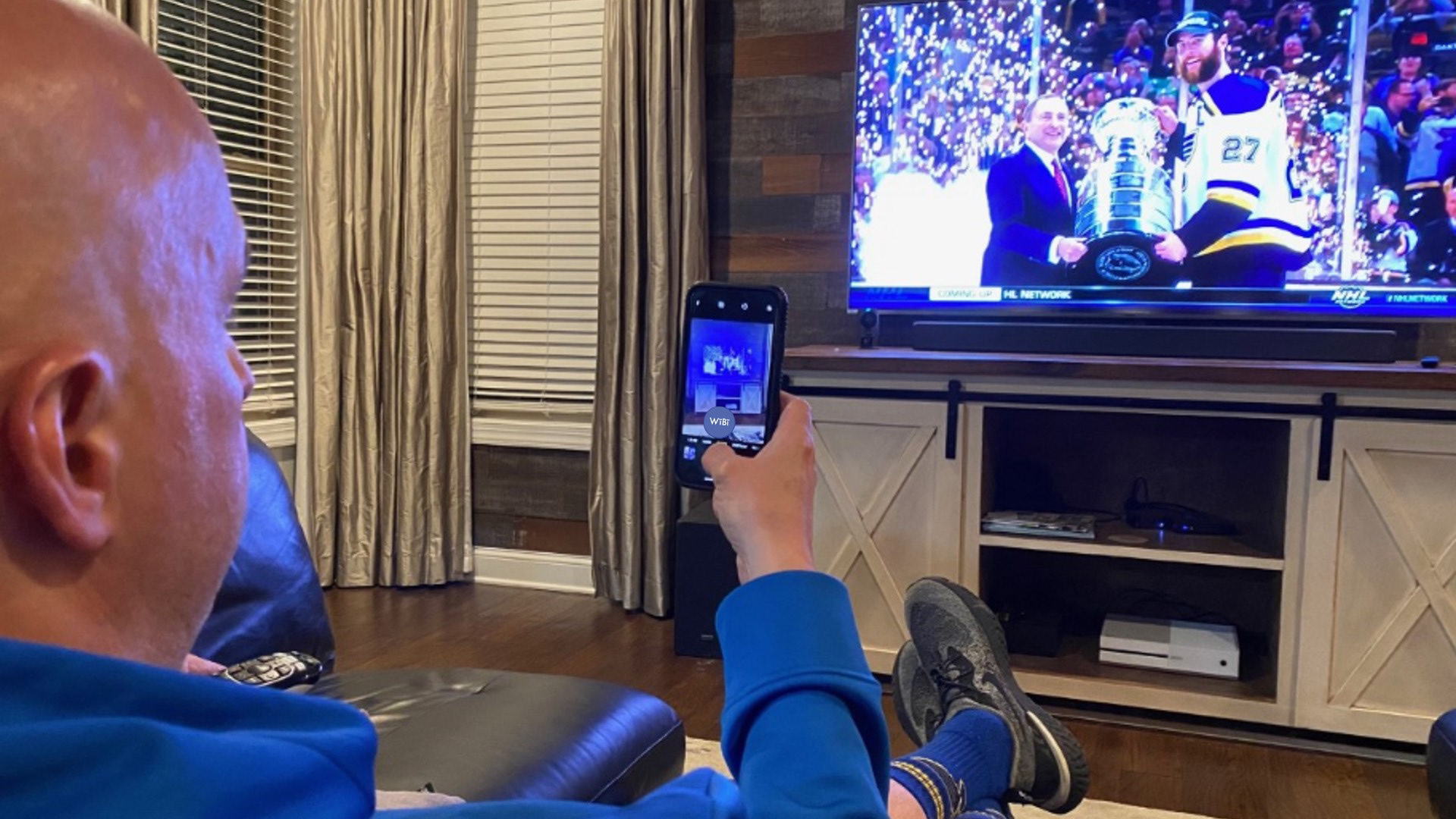 Notice this handsome young man watching his favorite team win the Stanley Cup?  While the excitement of the moment isn't lost, he wants to get that Stanley Cup Champion hat!  And Jersey!   And other apparel that might be available!  Soon, with the magic of WiBi, we can make that a near instantaneous reality to satisfy the most ardent impulse shopper!  


How does it work?  Just open the WiBi app on your favorite device, point it at the television and let WiBi capture the still or video of what's on your screen.  From there, our service will pass the file to our AI, where our machine learning algos will recognize those artifacts, distill them into prioritized chunks and then feed it into our Offers service which will return compelling, catered content for you to ponder over whether you want to purchase it…  or not.  Want those shoes that Russell Westbrook is wearing?  Want that new Rockets jersey?  Or want tickets to the Dodgers game on Saturday night?  WiBi will pass these offers back to you, let you purchase, maybe ask some survey questions or two, and continue to hone itself to what YOU prefer.  
Can cite Shazam, Instacart, Uber
Take your phone out
Launch the WiBi App
Point it at your TV
Buy what's highlighted
See your purchase history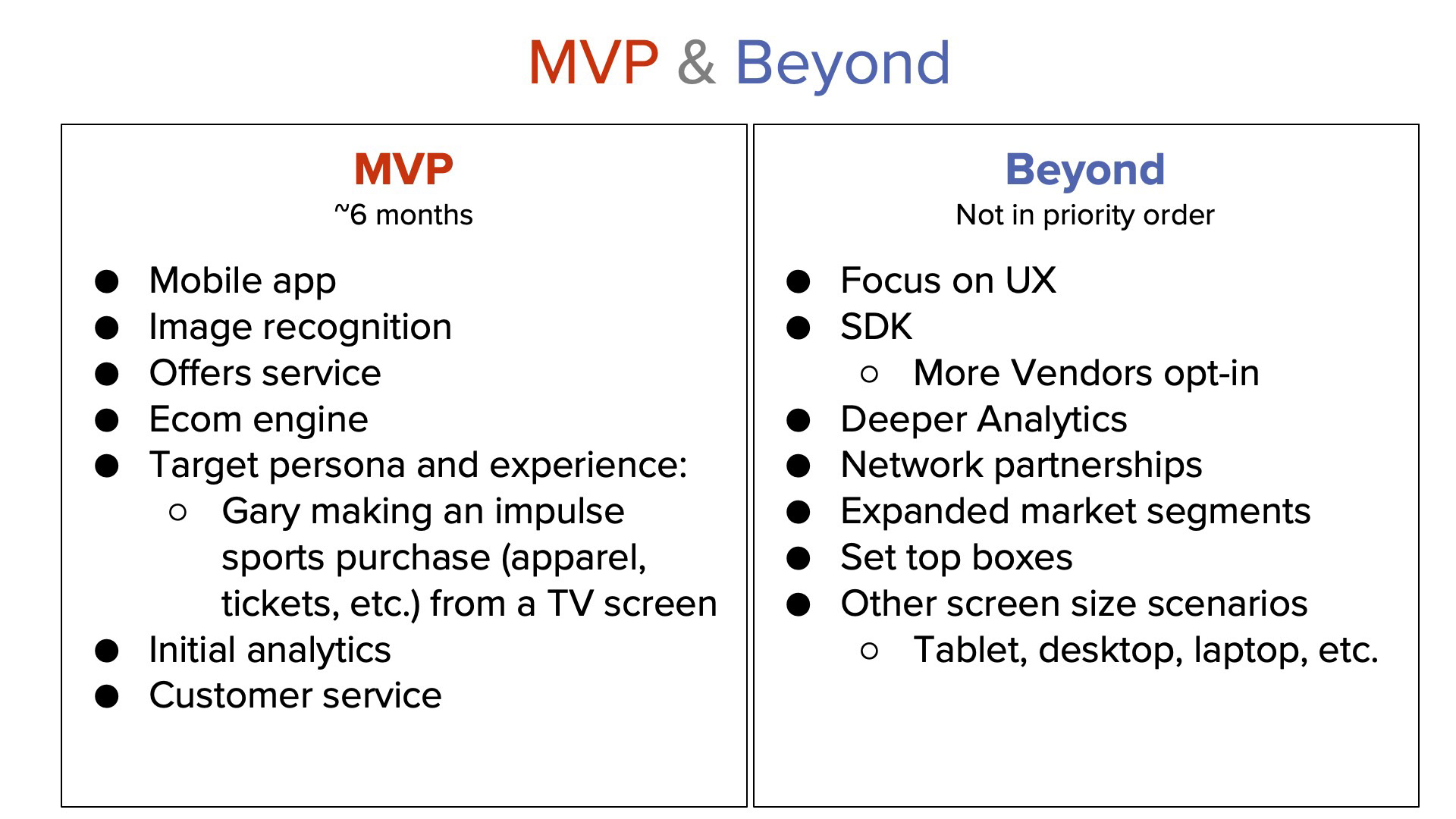 Great!  So you're telling me that WiBi is this super cool app that I can buy stuff from really easy.  Like too easy.  Is that it?  No.  WiBi actually brings Vendors and Customers together in compelling ways.  For example, our top Personas are different types of customers, but are also a Network Executive and Marketing Executive at a Product company with ad spend budget.  
Amy:  40+ yr old, Network Executive, wants to improve the network business but struggles to help Advertisers get better insights on their ROI for ad spend.  Masters degree.  Medium to high tech proficiency

Bobby:  Teen age youth, LOVES to play and watch sports and idolizes his favorite athletes.  Would spend a Gazillion $ on the new shoes that Steph Curry is wearing in this game.  High School.  Low to Medium tech proficiency

Christine:   50+ yr old, Marketing Executive for Fortune 10 company with a sizeable advertising budget.  Works deeply with Amy to understand ROI.  Desperate to better understand the campaigns that work (and don't) to better direct ad spend.  Bachelor's degree.  Medium tech proficiency

Dave:  25+ yr old, watches ~2 hours of sports on the weeknights and ~4-6 each day on the weekends when they aren't playing video games and not working.  No degree.  High tech proficiency

Evie:  30 yr old software developer, specializes in AI, HBAP graduate.  Passive TV watcher, cord cutter, spends equal time in retail AND online finding the merch she likes to buy.  Extremely high tech proficiency  

Frank:  60+ yrs old, maybe retired, enjoys watching sports, news and weather on traditional cable/satellite TV.  Might have a phone, but does not interact with social media.  Very low tech proficiency

Gary:  40+ yr old WHALE.  Compulsive purchaser.  Wants premium experiences and exclusive merch.  Would love to sit courtside at the next big game.  High tech proficiency

Jane:  30ish,  Mother of 3 kids, high disposable income, AVID sports fan (Rockets especially), Bach degree, Medium to High tech proficiency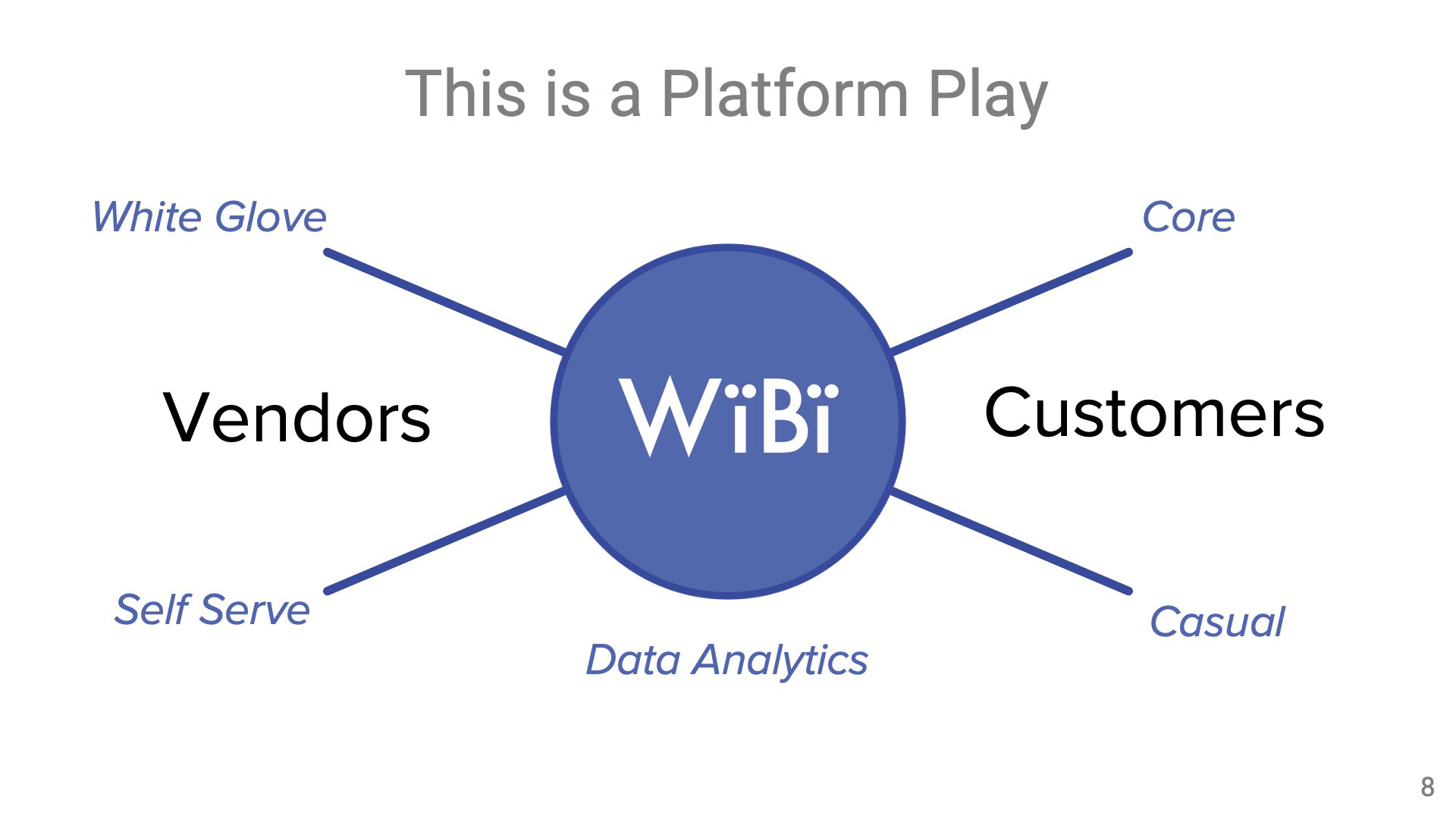 I'm gonna Talk about this really cool thing:  Multi Sided Business Models.
(Haven't heard?)
if you can get the equation right… Wow!
On one side: Customers… Users… "the folks who wanna buy what they see on TV."   (WiBi Buyers)
On the other side:  Vendors… Merchants…
Sports Teams, Sports Merchandise, Jersies, Collectables, Tickets,
The Brands…    (WiBi Sellers)
And there's us… WiBi...  in the middle bringing everyone together.

Complementaries include
"White Glove Integration Service" to connect into a Brand's ordering & fulfillment system
This is Us working closely with vendors.
"Self Serve" APIs for easy connection into our Platform.
Data Analytics:
Because everyone here should already know this…  #HBAP
And everyone here should should have already read "Competing in the Age of AI"   (#SignedCopy?!?!?)
"Features, and Benefits" for our Core Customers
"Incentives" to grow Casual Users into Core Customers.


Have you ever heard of Network Effects?
Well…  if you can build a business... that benefits from Network Effects… it's kind of like printing money…
Preferably WITHOUT the Secret Service or FBI knocking on your door.
More customers attracts More vendors.
More vendors attracts More customers.  
And the value of the WiBi Platform grows exponentially.
So… a key takeaway here is that we are looking to take advantage of Network Effects.
and… now that I've got you thinking about an Exponential Growth Opportunity… 
I want to thank everyone... and I'm gonna pass it back to Jeremy!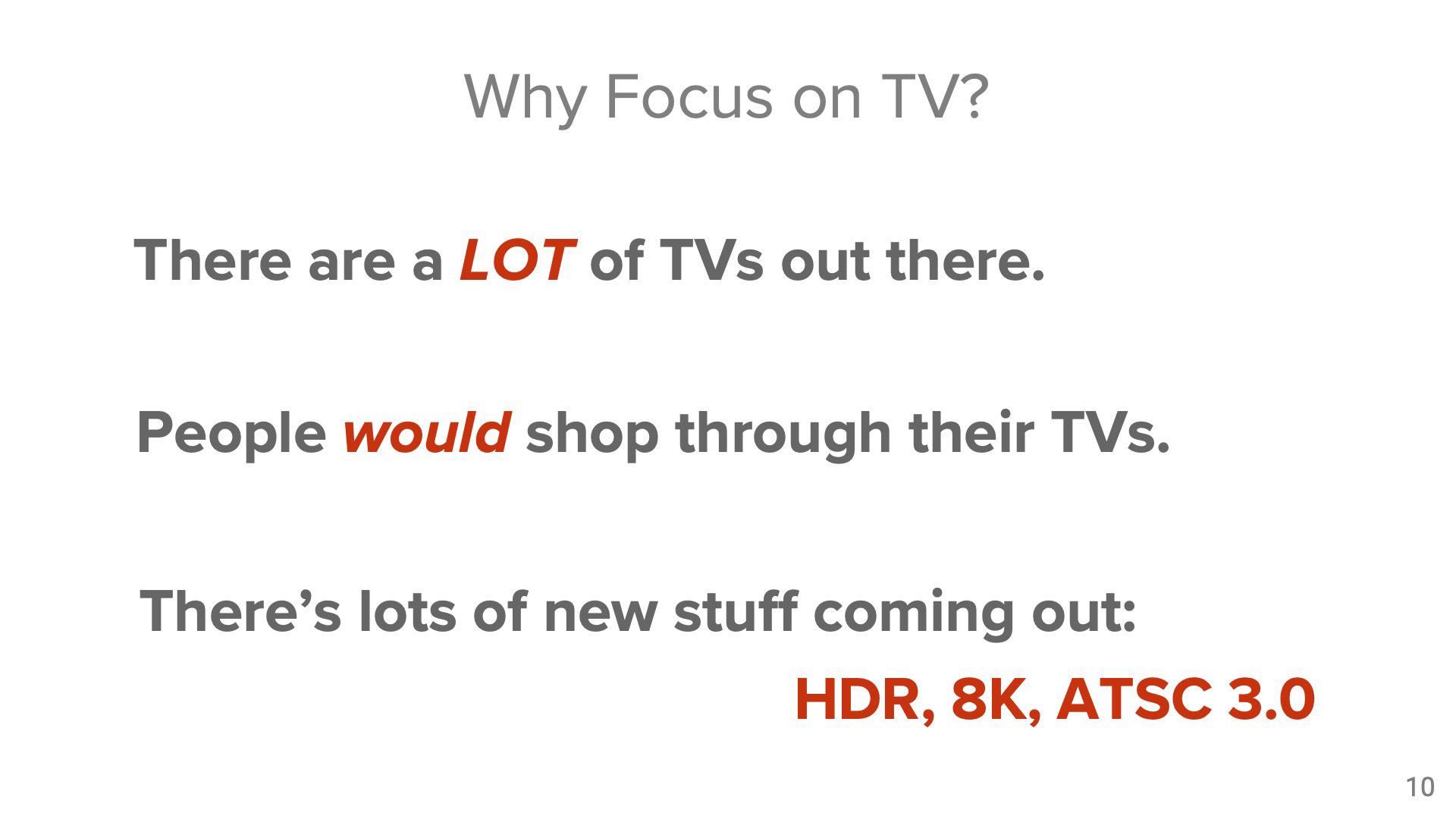 We believe we are going to be successful because we want to focus on a product that is penetrated deeply in the market.  TVs aren't going anywhere, reason Costco has a dozen the size of a garage door the moment you walk in.  Misconception about what cord cutting means.  It's just about the how you pay for your programming, not the how you watch your programming.  DirecTV comes through my TV.  I plug my Xbox into my TV.  I plug my Roku stick into my TV.  When I needed real time updates on the protesters last week, I turned on my TV.
  
 
Television sales are not declining.  In fact, they are on the rise.  Note Smart TV sales.
OTT, Authentication, Tablets, Phones.
ATSC 3.0.
Cable set top box penetration; streaming device penetration.
Game consoles.
Not everyone has the ability to stream content at home/don't have internet at home and this keeps this demo in the marketplace.
94% of people watch TV with their phones next to them


Amazon accounts for more than ⅓ of the online retail market.
Statistics on how much of that was done on mobile vary, but it's around 40%.
We believe we have an elegant solution for capturing the market for the impulse buyer sitting at home. We are targeting 5% of that mobile ecommerce market.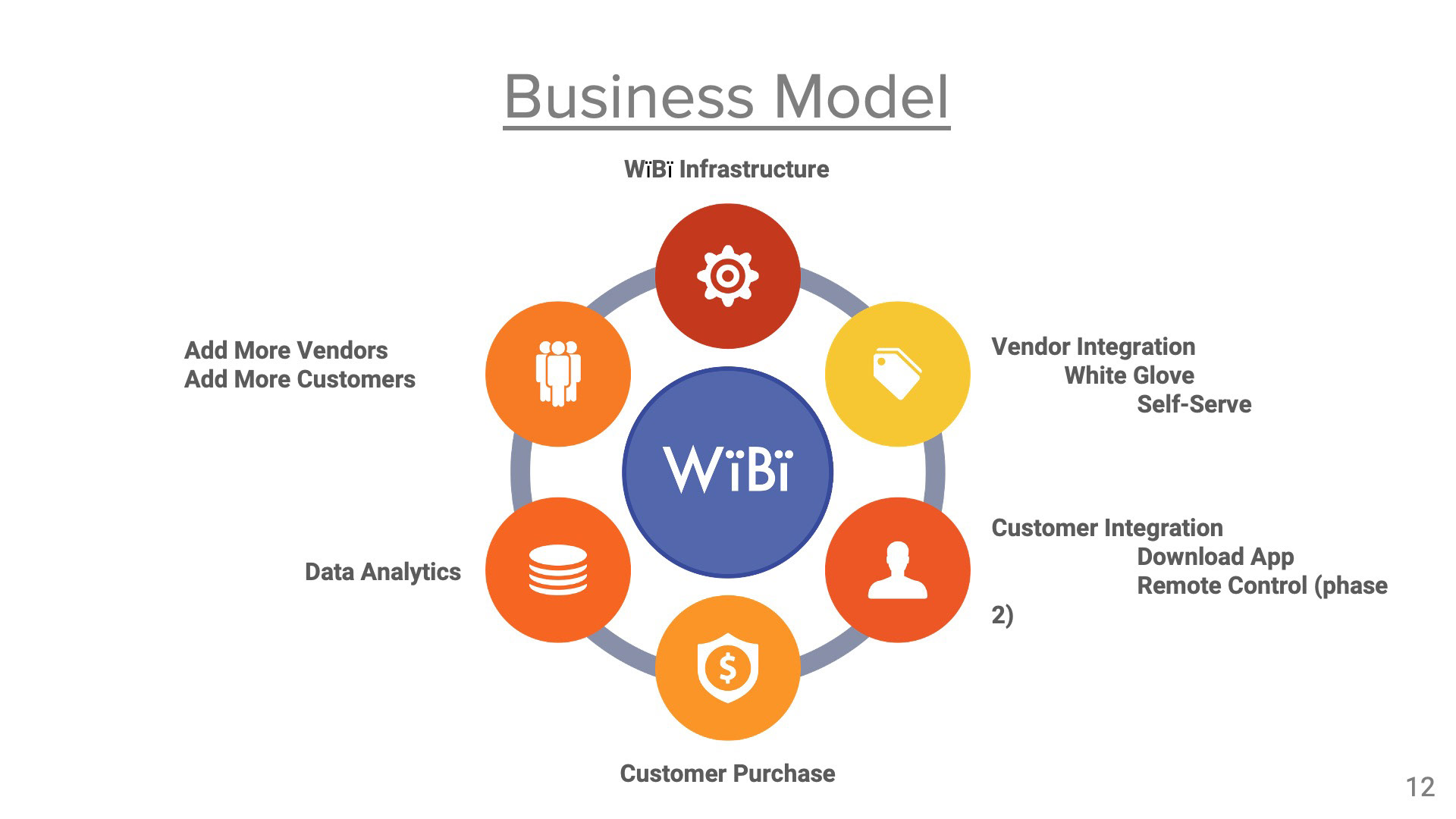 JEREMY
So... HOW DOES THIS ALL WORK?
Business Model Option A: 
WiBi Infrastructure
Software
Native App
Complete vendor integration
Hardware Integration
Obtain specs from hardware manufacturers (remote controls, sticks, etc.)
Rights Agreements with Large Parties
Attract Team and League to be in our marketplace 
Rev share on all sales
Vendor with inventory to sell (e.g. Fanatics, Dick's, UnderArmour, Nike, Ticketmaster)
Network want service to push sales for their advertisers and also get real time analytics on consumer engagement and activation
Sinclair Regional Sports Networks, NBC Regional Sports Networks
ESPN, Turner, CBS, Fox
Amazon, YouTube TV
Distributor Incentivized to participate to provide innovative service to existing customers 
Comcast, AT&T/DirecTV, Spectrum
Amazon, Roku, AppleTV, Vue, Xbox
Consumer Integration
Customer Incentive (Offers Service Middleware)
Web based service in cloud powered by machine-learning, image-capture AI that acknowledges what's on screen
Targeted offers brought back to that customer based on AI 
Download WiBi App
Play Store
App Store 
Indirect Network effects
Other in-game advertisers need to be part of ecosystem
Fans want to buy other products seen on screen
No Fee to advertise on platform
Keep % share of all sales
License/sell white glove service to large vendors
Phase 2 Development
WiBi technology via pay TV remote
Comcast Xfinity
AT&T/DirecTV
Spectrum
Xbox / Playstation Vue?
Value Creation
Value Capture
Operating Model
Business Model Option B:
WiBi Infrastructure
Software
Hybrid App
Focus on excellent machine learning component 
Plug and play e-commerce integration
Hardware Integration
Obtain specs from hardware manufacturers (remote controls, sticks, etc.)
License software to Organizations
Team with merchandise rights
League with merchandise rights
Vendor with merchandise rights (e.g. Fanatics, Nike, Ticketmaster)
Network with telecast/streaming rights
Consumer Requirements 
Download WiBi App
Play Store
App Store 
WiBi technology via pay TV remote
Comcast Xfinity
AT&T/DirecTV
Spectrum
Xbox / Playstation Vue?
Indirect Network effects
Other in-game advertisers want to be part of ecosystem
Fans want to buy other products seen on screen
Rev share on all direct click through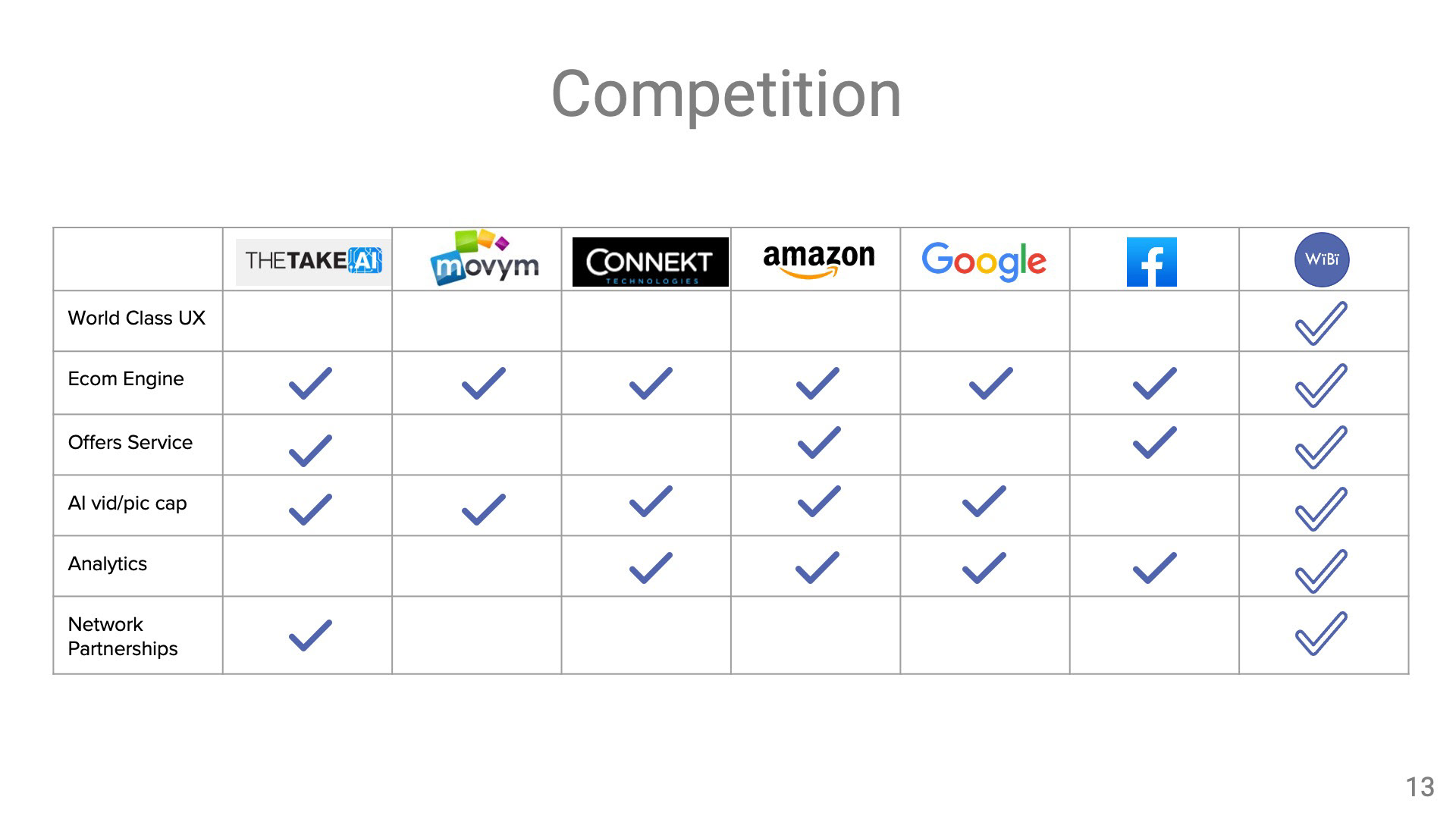 There is always new tech out there.  John Oliver has an unbelievable story on facial recognition this week.  Our story isn't about the tech, it's about the experience.
Competitors not focused on the lean-back TV experience.  Google and Amazon have image technology but want to keep it in their tent.  
We are focused on a shared ecosystem that will make buying things on TV easy for people.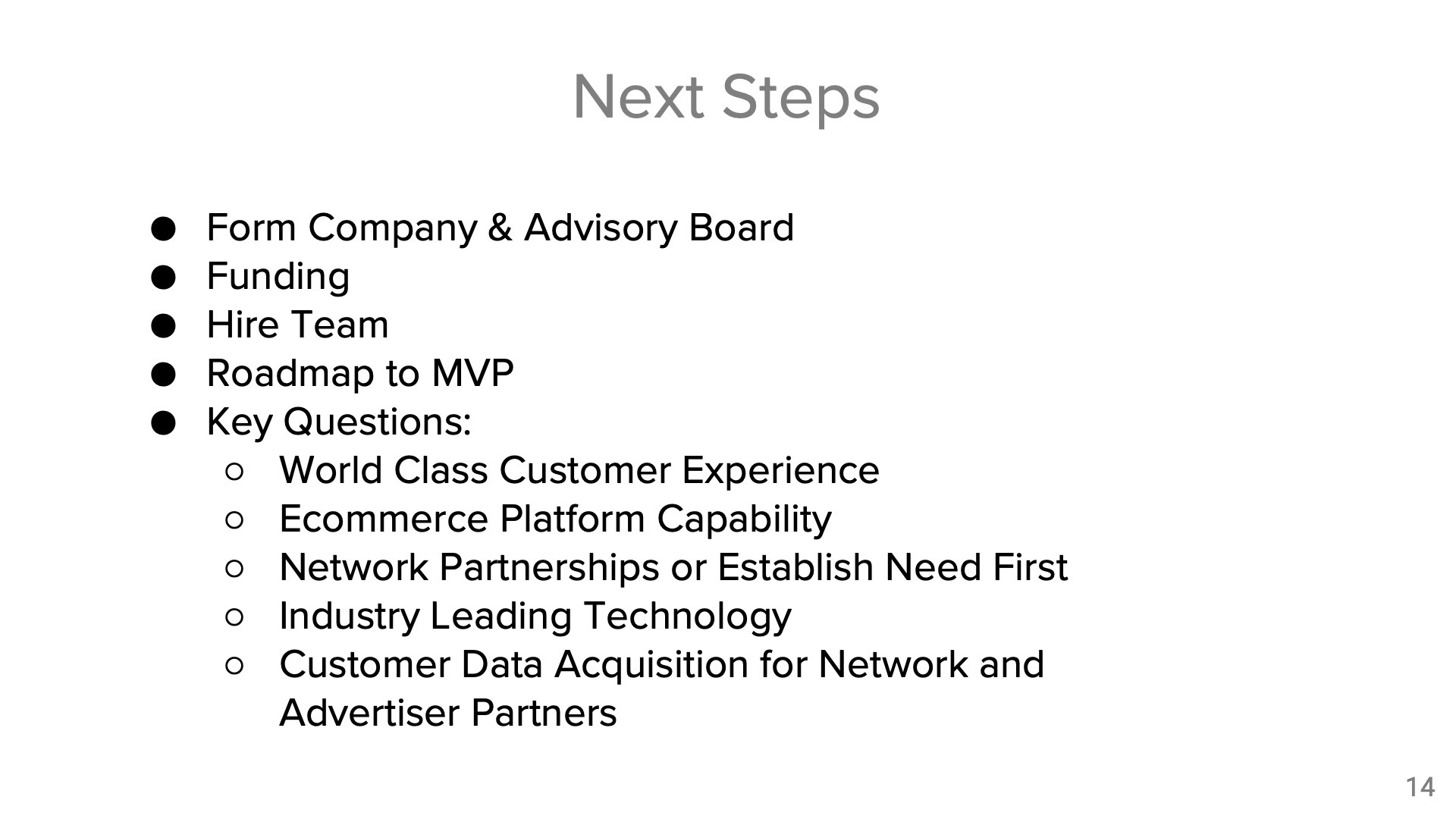 ● 
Can
WiBi become a major ecommerce platform?
● 

Can WiBi develop industry leading technology for photo and video recognition, combined with a powerful Offers service (eg Amazon) to create a sticky, loyal User Experience?
● 

Can WiBi partner with Networks (traditional like NBC, TNT and non-traditional like Disney+) to create uniquely powerful targeted ecommerce experiences?
● 

Can WiBi gain customer data to share with Network and Advertiser partners to help them create better products, campaigns and versions of themselves?
● 

Can WiBi become best in class in the above to position itself as an acquisition target for a Juggernaut that does not have this tech (eg

FAcebook)?
1. 

For WiBi:  Standard app metrics (DAU/WAU/MAU, ARPPU, Retention, etc.)
2. 

For advertisers:  Views, engagement, purchases due to advertisement, surveys, etc.